I think you might all know by now I love a list. I also love the idea of sharing what I am loving – and I hope that you will share some things that you love as well! It just feels so positive to me, and some days I just really need a reminder of the good stuff. I have started these posts before and then not kept up with them, or deleted them for various reasons. This week has actually been a pretty tough week, and I wanted to reflect on the things that made me smile or made laugh or made me think, or just straight up entertained me.
I have not had a lot of time to really blog or comment much this week, but I have been reading blogs all over the place. I like to read it all, too. I like to read about books and deep thoughts and what people are buying at the grocery store and what they are wearing. I am all over the map. I just like to know, I guess. But this week I read a blog post that really sparked me up, and that was What's Nonfiction's review of Quit Like a Woman. Fantastic review, and really got me thinking about so much. I had so many feelings on this topic!
These snowdrops that we saw this week! Our first true sign that spring will really happen! We have a bit of winter left, but I feel hopeful that spring is on its way!
I am also seriously addicted to Parisienne Farmgirl's YouTube videos! I feel like I share her values, but she is so pulled together and classy and Parisienne about it that she is goals. Plus, her food that she makes looks amazing! I am hoping to do a deep dive of her channel soon to see if she shares any of her meal planning. She also makes me want to go thrifting and get out in my garden like right now. And now I want a plaid apron too.
I always do an experimental meal every week, one I have plucked from Pinterest and the one I just made was so darn good!! It is called Mediterranean Tuna Salad and it was so fresh and yummy, we couldn't get enough of it. We liked it so much it is back on the menu for the upcoming week! We always rate our new recipes and have decided this is a solid five out of five, and would be great in the spring, summer, or as a winter pick me up when you need that taste of freshness and green. I should add I am not a fan of regular tuna salad, so the fact that I liked this is amazing. But, no mayo so that is probably key.
This Buzzfeed article on book nook shelf inserts that are so magical and lovely and whimsical – I am totally doing this. I am so in love with this little Fairy Forest! I love things that spark my own creativity and give me ideas!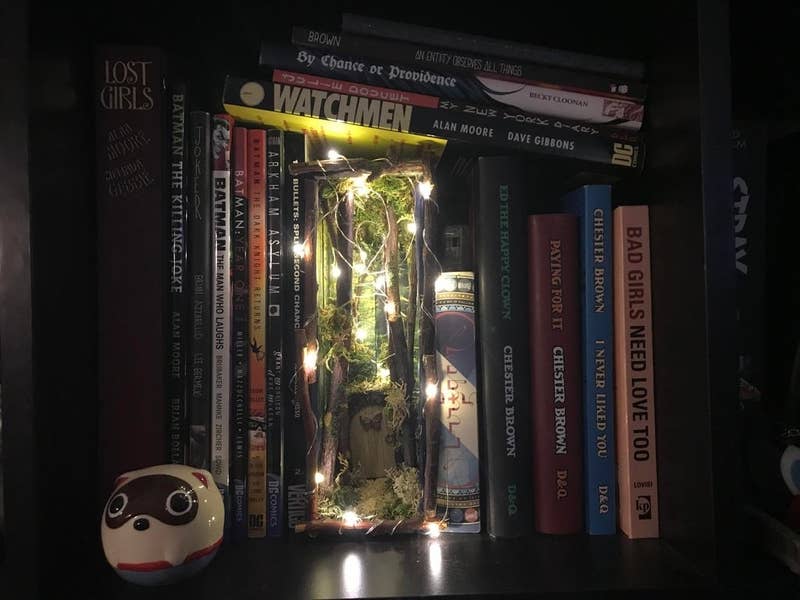 This kid. Playing cars together, and my son, who has a speech delay, told me that his Elmo needed a "Buckle, mom" after Elmo flew out of the car that I had so dangerously and precariously perched him on top of. But that Elmo, he's a risk taker. See him all Game of Thrones on a dragon there. Still no buckle…
Tanglewood Hollow, always a favorite of mine – but this maple sugaring post grabbed my attention, especially since at Wyatt's upcoming party we are doing a maple sugaring event..
What about you? Anything catch your fancy this week? What have you been enjoying?